Tel 01384 400777
Tel : 07973 148333
Activities
There's never a shortage of things to do in Cyprus.
Here are just a few activites that are available in the local area.

Eating out
With countless restaurants in Pissouri and many more in Paphos it can be tricky to find out which restaurants are the best around. Below are some of our favorites that we have come to know and love. From traditional Tavern's and fine dining Mediterranean restaurants to the essential British, fish and chip's takeaway!
Restaurants in Pissouri
Pissouri Square Tavern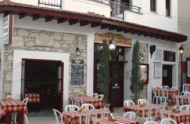 If it's the traditional Cypriot experience you are in search for look no further. Located in the quaint Pissouri village square this restaurant offers that famous Cypriot hospitality with great food.
Pissouri, Limassol, 4607 Cyprus Tel: +35725221579
Greek Night in Pissouri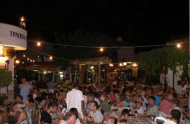 Occurring every Wednesday throughout the summer, visiting this event is a must for any tourist! Located in the charming Pissouri main square, you will be treated to some special Greek hospitality with buffet food available from all 3 restaurants and traditional Greek dancers. The evening is packed with good food, great entertainment and plenty of laughs! This event always sells out so make sure you book with one of the restaurants in advance.
Hide-Away Restaurant
Possibly the most picturesque restaurant we have visited in Cyprus. This quirky little tavern is located just off the main square and offers a stress free environment to enjoy a soothing evening. High quality, fresh Greek food is served but be aware of the giant pork chops! Delicious but not for the faint-hearted!
Village Square, Pissouri Village, Limassol, Cyprus‬‬‬‬‬‬‬‬
Limanaki Restaurant (Pissouri Bay)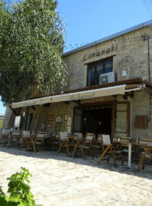 For that extra special evening this has to be our favorite restaurant! With incredible 'Mediterranean fusion' food and a personal service from the owner we never fail to have an enjoyable night whenever we visit.

Pissouri Jetty
Tel: 99 348270
Pizzeria and Chinese Take-away
Although we all enjoy eating out on holiday, sometimes a quiet night in relaxing around the pool with a take-away cannot be beaten. Pissouri offers both a pizzeria and Chinese takeaway and both are come highly recommended!
Restaurants in Mandria and Kouklia
Mandria Fish and Chips
When first told to visit this traditional British restaurant we were very skeptical of their slogan 'the best fish & chips in Cyprus' but we were wrong! Great value to money and definitely worth a visit!
Mandria 8504 Tel: 26422085
Laledes
Located in the village, Kouklia this little village retains that traditional Cypriot feel. This small, family run restaurant offers freshly made Cypriot food and is well priced. Ideal to experience a famous Greek meze!
6, Griva Digeni, Kouklia 8500‬‬‬‬‬‬ +357-26-432233
Restaurants in Paphos
Rimini's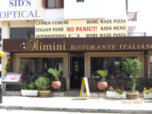 This is another one of our favorites. It's an Italian restaurant located at the far end of Paphos just past the Aloe Hotel, and is well worth a visit. The owner Panicos will instantly become your best friend with his witty charm and his famous catchphrase, "NO PANIC, PANIC IS HERE!" The food and the choice are excellent and, in our opinion, is amongst the best in Paphos.
Danaes Triangle, Paphos‬‬‬‬‬‬, +357 26 964 117

Further information can be found in the leaflets and brochures found in the draw of the coffee table or for more suggestions on how to have the best possible stay, see the comment book where we hope you leave thoughts and suggestions.

Things to do
Aphrodite Water Park, Paphos.


It is set within 35,000 sqm of natural landscaped grounds and situated at the far eastern end of the Kato Paphos coastal road and offers a wide and varied selection of rides, attractions and facilities, which include spacious changing rooms and secure locker rooms. It offers the biggest family rafting ride in the world as well as several other unique rides. With virtually guaranteed sunshine for every one of its opening days, it's no wonder that Paphos Aphrodite Water Park attracts over 100,000 visitors each year.


Typical Prices-
Adult - €29
Child - €12
Infant's - FREE

Tourist Area,
Off Poseidonos Avenue,
Kato Paphos
PO Box 61357 8133 Paphos,
Cyprus.
Tel: + 357 26 913 638



Pissouri Beach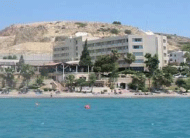 Set 4km away from Pissouri village and surrounded by restaurants and café's this beautiful beach offers a peaceful place to relax and enjoy the Med. On this large beach there is enough space for those of you wanting to relax, and for those thrill seekers wanting to experience a number of water sport attractions.
Latchi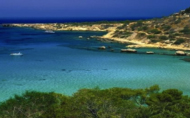 Latchi, lying on the North West coast of Cyprus, is a large, traditional Cypriot village (or small town), which successfully combines being a bustling, working fishing harbor, whilst also offering an array of restaurants and water sport options.

Conveniently situated a 1-hour drive from Paphos Airport,
Latchi is a fantastic way to enjoy rural Cypriot life.

Latchi in recent times has become famous for its access to the beautiful coastal bays such as the 'blue lagoon' and its brilliant water sport activities. With a number of companies offering speed boat hire and diving experiences, make sure you look around and get the best quote before setting off on your adventure of the Cyprus coast.


Aphrodities Rock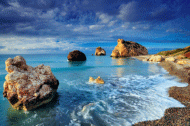 This famous Cyprus landmark in located just 10 minutes drive west of Pissouri. This beautiful wonder is the perfect place to relax or for those of you looking for love, it is legend that swimming around the rock will result in you finding your true love.

Fishing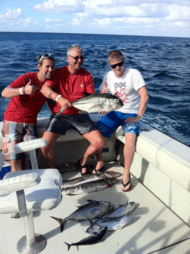 Cyprus is truly a fisherman's paradise and is one of the most popular sports on the island. Wherever you are in Paphos, a place to fish is never far away. Whilst fishing in waters in excess of 150ft deep and 20 minutes off the coast of Paphos Harbour you will attempt to catch smaller fish such as Bream, Snapper, Rainbow Rass and Perch. Each person is given his or her own rod and one to one help is given when needed. This trip is perfect for any age and talent. More experienced or daring anglers will want to challenge themselves with some shark fishing. During the season Tuna fishing is also available.
For further details contact
Elias Tel 0035799421044
Zephyros Adventure Sports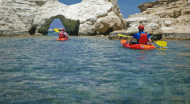 From winter ski trips to summer kayaking explorations and most things in between Zephyros Adventure Sports will make sure you have an unbeatable day out.
For enquires, Tel (00357) 26930037

Secret Valley Golf Club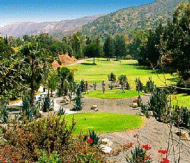 The Secret Valley golf course, designed by Iacovos Iacovou, nestles in a scenic valley, surrounded by grand trees, which add an aura of maturity to this fairly new golf course. The Sty Kingly rock formation offers panoramic views, giving golfers both the beauty of nature and the pleasure of golf.

The golf course measures 5,904m and plays to a par 71, and players without a handicap certificate can play after noon on request, depending on availability.

The facilities at the Secret Valley clubhouse in Cyprus offer a fully stocked pro shop, locker rooms, bar, a restaurant with verandas overlooking the golf course, putting greens, chipping areas, fairway bunkers, a large driving range, buggy rental, trolley rental (electrical and manual) and locker rental. Tuition is tailored to individual needs and can be conducted on a one-to-one or group basis.

Tsada Golf Club
Set in the verdant valley on the grounds of 12th century monastery, the course is about a 20 minutedrive from the villa.
It offers 18 holes 71 par 5828 metre course.


Aphrodite Hills Golf Club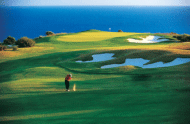 Aphrodite Hills Resort is home to a magnificent 18-hole championship golf course, spreading over 6,299 metres and overlooking the site where Aphrodite, the goddess of love, is said to have emerged from the sea. The golf course also has a dedicated 3-hole Golf Academy and magnificent Clubhouse.

This golf course was officially opened in 2002 and was designed by the acclaimed architect, Cabell Robinson. Robinson believes Aphrodite Hills to be the perfect mix of challenging pot bunkers, manicured fairways of lush Bermuda grass and generous tiered greens.

Beginners and experienced players of all abilities are encouraged to learn and improve their game. A team of resident PGA qualified golf professionals equipped with a 'full video swing analysis system' can provide one-on-one tuition.

Elea Estate Golf Club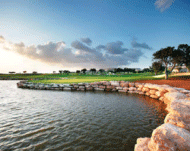 Eléa's course has been created to challenge golfers of every level. The par 71, 18-hole course, designed by Sir Nick Faldo, incorporates natural features to evoke a truly Mediterranean feel.


The course has been created to be sympathetic to its stunning setting, while still embodying the traditions of the game.


Skill, strategy, precision – and maybe a little luck – are needed if you're to be victorious here. But, win or lose, playing at Eléa Golf Club promises to be a memorable experience.

Created by a legend, cared for by a dedicated team and already attracting international interest, Eléa Golf Club is set to be one of the leading golf destinations in the Mediterranean.

Partnership No: OC376771
Narvic Llp, Unit 4 Dawley Estate, Stallings Lane, Kingswinford, West Midlands DY6 7AP
Tel: 01384 400777 or 07973 148333 Email: Richard@Narvic.net Copyright © 2012 Narvic Llp. All rights reserved